Self-Defense Day at Camp Kokoro
9.9.2017 by Erin Epperson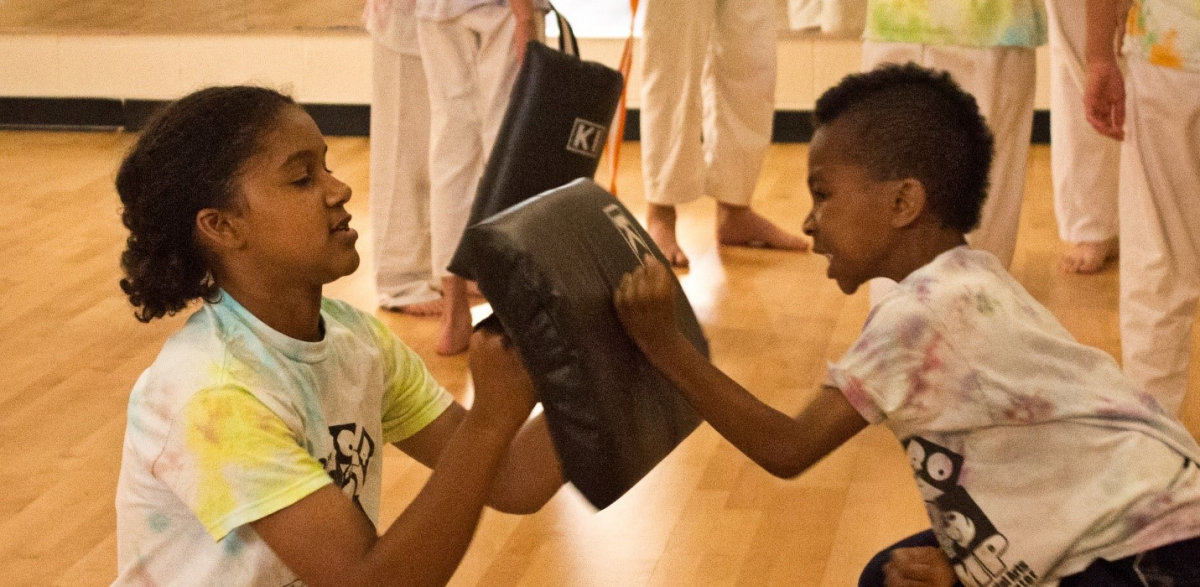 "THINK–YELL–RUN–FIGHT–TELL!" 
The energetic voices of 32 kids filled the room.  It was Self-Defense Day at Camp Kokoro Session 1, and I was excited.  As a teacher in the kids' karate program, I already had a senpai-student relationship with most of the kids. But for the first time, I had the opportunity to focus on self-defense skills: how they can best use their body and their powerful voice to stay safe.
The way we approach self-defense at Thousand Waves – through the preventative and empowerment-based lens that emphasizes assertive verbal communication and non-violent conflict resolution – has always permeated our karate programs. From day one, karate students are taught to say what they need in partnerships, and to respect the needs of others. When students have conflicts, the teachers will step in to mediate, and meet with students outside of class when necessary to best enable each student to feel safe, strong, and respected.
In karate classes we don't always have time to explore all the safety topics kids (and their adults) need and want. To fully address these topics, we offer special self-defense workshops. Our Teen and Adult training members have the opportunity (and in fact, a rank requirement!) to take one of our 12-hour Self-Defense courses, in addition to various shorter workshops. For the kids in our Youth program, we have been offering our annual "Back to School Safety" workshop, held most recently on September 9. Our inclusion of Self-Defense Day for this first time as a formal part of Camp Kokoro initiates the expansion of our self-defense offerings for our younger students.
Kids as young as six, and as old as the 12-13-year-old CIT's (Counselors-in-Training ) sat together as we talked about the importance of listening to your 'gut' – that intuition is an important tool we already possess. We practiced using our voices and body language to set strong boundaries with other kids when they are being mean or trying to make us do something we don't want to do ("Leave me alone!" or "No, I don't want to!"). We also talked about the right to decide who touches you for affection, which we know is an important way to keep kids emotionally and physically safe ("No thank you. I don't want a hug right now." Or "Please don't touch me."). And, of course, we practiced ways to defend yourself physically: to escape or hit until you can escape. The favorite activity of most was the escape from a stranger grabbing your wrist, which I called "Drop, flail, and Yell" (parents, ask your children for a demo at your own risk!).
Overall Self-Defense Day at Camp Kokoro was a fun time for all and I look forward to doing more self-defense programming for our Thousand Waves kids.  
Senpai Erin Epperson is a self-defense instructor at TW and a 1st Degree Black Belt.