"The study of Japanese characters gave me some clue to the meaning of 'kiai.' The first character, for 'Ki,' is the symbol for spirit, mind, energy, force. The second character, for 'ai,' is the symbol for meeting, or coming together. 'The coming together of mind' – what could this mean?" – from C.W. Nicol's Moving Zen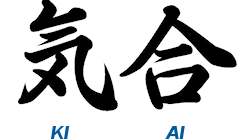 We sometimes translate Kiai! – the name of Thousand Waves' bi-monthly electronic newsletter – as "yell of spirit." In Seido Karate, we often forcefully exhale with just such a yell at key moments in our practice to gather our energy, ward off opponents, or simply express a non-quitting spirit. In some traditional Japanese understandings of the kiai concept, the audible utterance itself is entirely secondary – Kiai simply refers to a strong convergence of energy. We know that staying in touch with our community is a powerful tool for creating a more peaceful world; we think our newsletter's name accurately captures its purpose!
Kiai! readers vary. Many are Thousand Waves members and friends, others are self-defenders, martial artists and instructors, colleagues and people interested in our organization. Subscribers learn about Thousand Waves' work in Chicago and the martial arts world, upcoming events, community outreach and opportunities for involvement.
If you haven't already, please consider subscribing to Kiai! Subscribing is free and will keep you informed about Thousand Waves' work in support of our important mission.
Enjoy articles from these previous issues of Kiai!